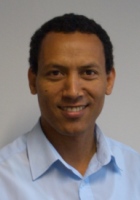 PD. Dr.-Ing. habil. Waltenegus Dargie
PD. Dr.-Ing. habil. Waltenegus Dargie is a scientific assistant at chair Computer Networks at Dresden University of Technology.
He leads the Energy Lab Team (Cluster of Excellence: Center for Advancing Electronics Dresden) and focuses on research activities related to (1) energy efficient computing, (2) wireless networks, and (3) Ubiquitous Computing. With regard to energy-efficient computing, his main focus is on the energy consumption of large-scale servers and data centres. Specifically, he investigates the scope and usefulness of various probabilistic models to classify services (applications); to estimate the resource utilisation and the power consumption of different types of workloads; and to estimate the cost of different types of adaptation strategies (dynamic voltage and frequency scaling, dynamic service migration) . With regard to wireless networks, he is interested in developing self-managing, adaptive, and resource efficient protocols for wireless and ad-hoc networks, particularly, for wireless sensor networks. Stochastic processes are the foundation of all of his research activities. In addition to large-scale servers and data centres, he investigates the statistical properties of sensed data, extracted from sensors installed in different objects (persons, buildings, and devices) and strives to identify efficient and reliable stochastic models to meaningfully interpret them.